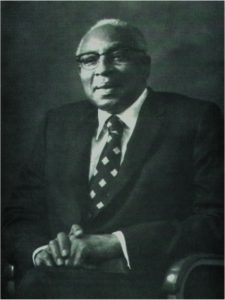 Bishop John Seth Bailey was born on June 9, 1896 in Daphney, Alabama. He was the tenth of fifteen born to Edmond and Caroline Bailey, Sr. He heard the gospel of sanctification and baptism of the Holy Ghost preached by the late Elder Monroe Jones, of Mobile, Alabama in 1918. He gave his heart to God and was saved from his sins with real knowledge of God in his life. On June 3, 1918, he was married to Miss Anna J. Thomas.
His pastor admired his fervency of spirit and faithfulness and appointed him Sunday School teacher. Later, he became Deacon of the Church. His name is engraved in stone and will be there as long as his home church stands in Mobile, Alabama.
In 1918, he was inducted into the U.S. Army, American Expedition Force. The Lord blessed him there; seeing many of his comrades go down, he continued to trust God and He brought him out safely. He was discharged in 1919 with greater determination to give his life to the Lord.
In 1924, he and his late wife Anna J. moved to the city of Detroit, Michigan. He found saints and connected with Saints Home Church of God in Christ, where Elder J.P. Payne was pastor. Again, he was recognized for his faithfulness, spirituality and fervency of spirit. He answered his calling and was ordained in 1926.
That same year, he and his late wife, Anna J. founded Bailey Temple Church of God in Christ on McKinley Avenue on Detroit's west side. God told him "This Is The Place". He cleared the land and erected a tent and had just four members. Later, the tent would be filled and he would build his first church at that site. In 1932, his wife, who had been faithful and who had worked so untiringly, was called home to be with the Lord. Broken hearted, he journeyed on alone.
After the passing of his first wife, he married Mother Annie Lee Pennington. At the time, she was the State Supervisor of Maryland and National Secretary of the Women's Department of the Church of God in Christ, INC. The Lord then elevated her and she became the International Supervisor of the Women's Department of the Church of God in Christ Inc. She was a great inspiration in his life and helped him to reach for greater things of God. It is said that she caused "the birds to sing again in his life".
In 1934, Overseer I.W. Winans appointed him District Superintendent of District Number One, and he served faithfully in that capacity. In 1945, because of the growth of Bailey Temple he remodeled that structure and many souls were saved, healed and delivered. In 1946 he was appointed Overseer of the State of Southwestern Michigan. The state grew from thirty four churches to one hundred and twenty five churches and missions. He went to Muskegon Michigan to a discouraged people and built a church for them. Through his ministry and administrative abilities, the congregation grew and the people became encouraged and inspired. He was truly a builder of churches and father to many.
In 1953, Bishop Bailey became the pastor of Livingstone Street Church of God in Christ. Livingstone Street Church of God and Christ was the first Church of God in Christ established in the state of Michigan. Thus, this church is considered to be the Mother church of the Churches of God in Christ in the state of Michigan. It was founded by late Elder W.G. Johnson and his wife, Mother Mary Mangum Johnson in 1914. The church was located at 623 Livingstone Street. Many people were converted, healed and delivered. After the death of Pastor Johnson, several men pastured the church, including Elder R.H. Cobb and Elder A. A. Moore. The church and its congregation relocated to 9841 Dundee, it's present location, in March of 1962.
On March 17, 1962, a decision was made to rename the church. In renaming the church, the members established for the Mother Church a lasting memorial. One that would tell generations to come, "that there was a man named John sent by God", to shepherd and to build and re-build the first Church of God in Christ in Michigan. That man was Bishop John Seth Bailey. On September 3, 1967, the pastor and members of Seth Temple laid the corner stone of the new building.
While pasturing Seth Temple, a flourishing church, Bishop Bailey was also pasturing Bailey Temple Church of God in Christ. The late founder of the Church of God in Christ, Bishop Charles H. Mason appointed him to the general board of Bishops. In 1972, the state of Southwest Michigan purchased Bailey Cathedral, located at 7045 Curtis Avenue.
On December 18, 1975, God called Mother Annie L. Bailey from labor to reward.  In 1976, God gave Bishop Bailey another jewel as his wife, Sister Iner R. Whittler. She was a loving, faithful and fully dedicated wife, who attended to the needs of her husband until his demise.
On the evening before his death according to Iner Bailey, Bishop Bailey spoke to her these final words," The Lord will beautify the meek with salvation. No doubt about it, Holiness is right and the Lord will take you through."
On Sunday, August 5, 1984 Bishop John Seth Bailey, pastor of Seth Temple Church of God in Christ, Bailey Temple Church of God in Christ and the Presiding Prelate of Southwestern Michigan Jurisdiction, closed his eyes entering his eternal rest.
When he died, he left the world a legacy of his achievements as a warrior of God. In what he built, in what he fostered, in what he initiated, in what he believed, in the fight of faith that he waged, in all of the Christian endeavors that he propagated, Bishop John Seth Bailey "LIVES ON"